Overview
Details
Say goodbye to frozen wet cat food and drinking water! The thermostatically controlled K&H Thermo-Kitty Café automatically warms as needed to keep your pet's food and water unfrozen. Simply plug it in and your petʹs water will remain open all winter, even in extremely cold temperatures. It's perfect for outdoor and feral cats.
Build Quality
All Thermo-Kitty Café electronics are safely sealed inside to prevent water damage and facilitate outdoor use. The sturdy ABS plastic housing stands up to daily use while the 5.5 foot power cord is steel-wrapped to prevent abrasion and resist chewing.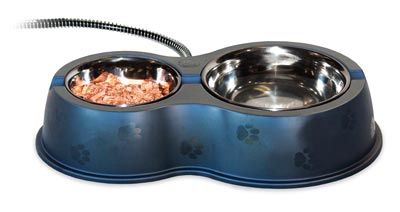 Thermostatic Temperature Control
Thermostats inside the Thero-Kitty Café automatically respond to changes in temperature to keep the unit running optimally and prevent ice formation. There's no switch to turn on and, when temperatures are sufficiently cold, the Thero-Kitty Café will begin to warm after being connected to a power outlet.
Stainless Steel Bowls
Every Thermo-Kitty Café includes a 12 oz. and 24 oz. stainless steel bowl. They're dishwasher-safe and lift out of the heated base easily for refilling or cleaning. We even offer replacement bowls on our retail site for those who like to have extra bowls on hand.
Many users place water in the larger bowl and wet cat food in the smaller one, but both bowls can accommodate liquids or solids. With the flexible Thermo-Kitty Café, the choice is yours!
Energy Efficiency
Using only 30 watts, this heated cat bowl set consumes very little energy. Now you can care for your outdoor kitties without worrying about the electric bill.
Safety-Tested
The K&H Thermo-Kitty Café has been tested rigorously and certified by MET Labs. Their certification means that this product adheres to strict electrical safety standards.
Product Video
Key Specifications
Heated: Yes
Thermostatically Controlled: Yes
Cord Length: 5.5 ft.
Outdoor Use: Yes
Material: ABS Plastic, Stainless Steel Bowls
Safety Listing: MET
Capacity: 24 oz. & 12 oz.
Wattage: 30 watts
Specifications
Additional Info
| | |
| --- | --- |
| Item # | 2093 |
| Printable UPC | No |
| Unit UPC | 655199020935 |
| Case UPC | 655199120932 |
| Cord Length | 5.5 ft. |
| Wattage | 30 watts |
| Capacity | 12 oz. bowl & 24 oz. bowl |
| Dimensions | 8.5" L x 14" W x 3" H |
| Item Weight | 3 lbs. |
| Shipping Package | 4 Color Box |
| Shipping Package Dimensions | 16.25" x 3" x 10.5" |
| Case Pack Qty | 6 |
| Case Pack Dimensions | 19" x 12" x 17.5" |
| Case Pack Weight | 18 lbs. |
| Warranty | 1 Year |
Care & Instructions
Product Q&A
Product-Specific Questions
---
General Questions about Outdoor Heated Products