Overview
Details
Drawing on the overwhelming success of the Outdoor Kitty House, the K&H Multi-Kitty A-Frame integrates all of the same features in a larger, a-frame style house. It's perfect for 1 to 4 outdoor cats and boasts water-resistant fabric, easy assembly, durable construction, and an optional heating package. Give your outdoor kitties what they deserve––a warm, safe place to call home.
Easier Assembly Than You Ever Imagined
Leave your hammer and nails in the garage. The Multi-Kitty A-frame assembles in mere minutes, all without the need for tools. Hook and loop wall fasteners create solid joints that fall into place and connect easily. In fact, assembly is so simple that no directions are necessary!
Save time and avoid the hassle of building your own cat house. Invest in a Multi-Kitty A-Frame and you'll wonder how you and your cats ever lived without one.
Optional Heating Package
We offer a heated and unheated model of the K&H Multi-Kitty A-Frame to meet the unique needs of every cat owner. The heated model includes our medium 19" x 24" Lectro-Soft Outdoor Heated Bed while the unheated version does not come with a bed.
The Lectro-Soft is the market's only soft outdoor heated pet bed and made of a water-resistant PVC material. It features thermostatic controls, a washable fleece cover, a 5.5 foot steel-wrapped cord, and an MET safety listing.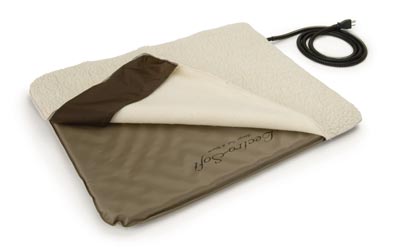 Also included with the heated version are 2 door flaps and hook & loop material sewn above the inside of the doors so you can attach the flaps easily.
Carefully Designed in Colorado
In Colorado, we know snow and cold. So when we designed the Multi-Kitty A-Frame to be light and easy to assemble, we also made it durable and ready for winter weather.
Because of the a-frame roof shape, a significant amount of snow cannot accumulate on the roof and weigh it down. The roof's overhang also gives cats inside the house additional shelter from the elements.
Front and rear door flaps on the heated model provide added shelter while allowing cats to enter and exit the house. These lightweight, clear flaps attach to the inside of the house and can be pushed open easily.
Finally, the house's water-resistant 600 denier nylon keeps cats dry and protected from snow and rain. Inside the house, the Lectro-Soft bed found in the heated model features a water-resistant design, allowing cats to track in snow, rain, and mud without damaging the bed's core components.
Heating system patent #8,015,942
Key Specifications
Unheated & Heated Models
Outdoor Use: Yes
Water-resistant: Yes
Outer Dimensions: 20" W x 35" D x 20" H
Inner Dimensions: 19" W x 24" D x 18" H
Doors: 7.75" W x 8.25" H (Front & Back)
House Material: 600 Denier Nylon
Capacity: 1-4 cats
Lectro-Soft Bed - Included with Heated Model Only
Heated: Yes
Thermostatically Controlled: Yes
Pre-Set Temp: 102°F
Cord Length: 5.5 ft.
Bed Material: Soft PVC
Cover: Fleece (Included)
Machine Wash: Cover Only
Water-resistant: Yes
Safety Listing: MET
Dimensions: 19" W x 24" D
---
Outdoor Cat House Comparison
This item:
Outdoor Multi-Kitty A-Frame

Item #

3991 – Unheated
3992 – Heated

3990 – Unheated
3993 – Heated

5121 – Tan
5122 – Gray

Outer Dimensions
20" W x 35" D x 20" H
18" W x 22" D x 17" H
14" W x 21" D x 13" H
Inner Dimensions
19" W x 24" D x 18" H
14" W x 18" D x 16" H
13" W x 19" D x 11" H
Included Heated Bed
Medium Lectro-Soft
(heated model only)
Small Lectro-Soft
(heated model only)
Small Animal Heated Pad
Cat Capacity
1-4
1-2
1
Doors
2
2
1
Important Safeguards:
Consult your veterinarian before use with young puppies/kittens, convalescent pets, during surgery/surgery recovery, or any animal that cannot voluntarily remove themselves from the heated pad. K&H recommends using ONLY the Deluxe Lectro-Kennel Heated Pad for these animals as this pad has an adjustable thermostat.
Do not place pad in confined area where the pet does not have the ability to remove themselves from the pad. Always allow your pet enough space to be able choose if they want to rest on the pad or off the pad.
Specifications
Additional Info
Item #

3991 – Unheated
3992 – Heated

Printable UPC
No
Unit UPC

3992 – Unheated – 655199039913
3993 – Heated – 655199039920

Case UPC

3992 – Unheated – 655199139910
3993 – Heated – 655199139927

Cord Length
5.5 ft.
Wattage
Heated – 40 watts
Safety Listing
MET
Dimensions
35" L x 20" W x 20" H
Sleeping Surface Dimensions
24" L x 19" W
Item Weight

Unheated – 8 lbs.
Heated – 9 lbs.

Shipping Package
4 Color Box
Shipping Package Dimensions
35.25" x 22" x 2"
Case Pack Qty
6
Case Pack Dimensions
36" x 13.5" x 22.75"
Case Pack Weight

Unheated – 50 lbs.
Heated – 55 lbs.

Warranty
1 Year
Care & Instructions
Product Q&A