Overview
Details
Simply stated, there's nothing else on the market like the K&H Mod Thermo Kitty Shelter. Its combination of modern colors, simple zip-together design, rigid exterior, and internal heating pad make it an outstanding value for anyone caring for outdoor cats. Use it to keep cats warm in a barn, shed, porch, garage, under a deck or anywhere extreme temperatures exist. It's a modern cat house unlike anything you've ever seen.
Zip-Together Assembly
We put a great deal of thought into the design of our Mod products, and the Mod Thermo-Kitty Shelter is no exception. You'll appreciate the simple assembly with a clean, zip-together design that's sure to impress everyone who sees it.

Small Animal Heated Pad
The K&H Mod Thermo-Kitty Shelter includes a Small Animal Heated Pad for warmth and comfort. Pre-set internal thermostats automatically monitor the surface temperature to keep kitties cozy and safe.
K&H outdoor pads are designed to warm to your pet's normal body temperature of 102°F when he/she lies on the pad. When your pet is not on the pad, the heat will dissipate into the air and the surface temperature will vary according to the ambient air temperature.
Plug in the Small Animal Heated Pad and it will automatically warm on its own. There is no on/off switch to worry about and the pad will never exceed a cat's natural body temperature. And with the pad covering half the floor, your cat can choose whether to be on or off the warm area.
This unique heating pad features tough ABS plastic, water-resistance, thermostatic controls, a washable fleece cover, a 5.5 foot steel-wrapped cord (18" are also steel-capped), and an MET safety listing.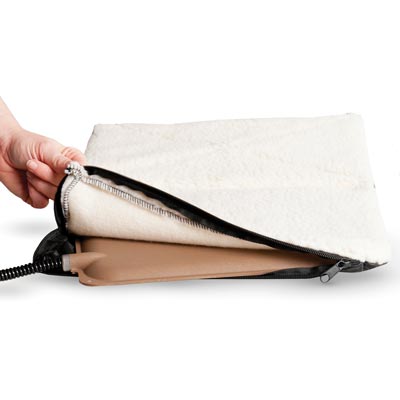 Front Door Flap
We include a 7" circle door flap with every K&H Mod Thermo-Kitty Shelter. Its clear plastic provides an added layer of protection while allowing cats to see outside. The flap adheres to the inside of the shelter with hook & loop material and cats can push their way through it easily.
Low Power Consumption
The included K&H Small Animal Heated Pad consumes a miniscule 25 watts of electricity––less than many light bulbs. With this high level of efficiency, you can care for your outdoor kitties and still keep energy costs low.
Tough Exterior
600 denier nylon provides water-resistance and durability. You'll be amazed at how the fashionable design of the Mod Thermo-Kitty Shelter also stands up to rain, snow, and harsh weather conditions.
Product Video
Key Specifications
Outdoor Use: Yes
Water-resistant: Yes
Outer Dimensions: 14" W x 21" D x 13" H
Inner Dimensions: 13" W x 19" D x 11" H
Door: 7" Diameter (Front)
House Material: 600 Denier Nylon
Capacity: 1 cat
Small Animal Heated Pad
Heated: Yes
Thermostatically Controlled: Yes
Pre-Set Temp: 102°F
Cord Length: 5.5 ft. (18" steel-capped)
Bed Material: ABS Plastic
Cover: Fleece (Included)
Machine Wash: Cover Only
Water-resistant: Yes
Safety Listing: MET
Dimensions: 9" W x 12" D
Wattage: 25 watts
---
Outdoor Cat House Comparison
This item:
Mod Thermo-Kitty Shelter

Item #

3991 – Unheated
3992 – Heated

3990 – Unheated
3993 – Heated

5121 – Tan
5122 – Gray

Outer Dimensions
20" W x 35" D x 20" H
18" W x 22" D x 17" H
14" W x 21" D x 13" H
Inner Dimensions
19" W x 24" D x 18" H
14" W x 18" D x 16" H
13" W x 19" D x 11" H
Included Heated Bed
Medium Lectro-Soft
(heated model only)
Small Lectro-Soft
(heated model only)
Small Animal Heated Pad
Cat Capacity
1-4
1-2
1
Doors
2
2
1
Important Safeguards:
Consult your veterinarian before use with young puppies/kittens, convalescent pets, during surgery/surgery recovery, or any animal that cannot voluntarily remove themselves from the heated pad. K&H recommends using ONLY the Deluxe Lectro-Kennel Heated Pad for these animals as this pad has an adjustable thermostat.
Do not place pad in confined area where the pet does not have the ability to remove themselves from the pad. Always allow your pet enough space to be able choose if they want to rest on the pad or off the pad.
Specifications
Additional Info
Item #
Printable UPC
No
Unit UPC

5121 – Tan – 655199051212
5122 – Gray – 655199051229

Case UPC

5121 – Tan – 655199151219
5122 – Gray – 655199151226

Cord Length
5.5 ft.
Wattage
25 watts
Safety Listing
MET
Dimensions
21" L x 14" W x 13" H
Sleeping Surface Dimensions
13" x 19"
Item Weight
6 lbs.
Shipping Package
4 Color Box
Shipping Package Dimensions
21.25" x 15.5" x 2.5"
Case Pack Qty
6
Case Pack Dimensions
21.75" x 15.5" x 2.5"
Case Pack Weight
34 lbs.
Warranty
1 Year
Care & Instructions
Product Q&A
Product-Specific Questions
---
General Questions about Outdoor Heated Beds