Overview
Details
The Market's Only Soft Outdoor Heated Bed
Whether outdoors or indoors, use the K&H Lectro-Soft anywhere a flat, stable surface is available. Inner orthopedic foam is wrapped in water-resistant PVC that stands up to outdoor elements and dries quickly. Its soft yet tough build is perfect for dog & cat houses, porches, garage floors, barns, or even the living room.
Energy Efficiency
Choose from several sizes of Lectro-Soft beds, all of which use minuscule amounts electricity. Orthopedic foam inside the bed helps retain heat to keep pets warm and reduce energy consumption.
Automatic Temperature Control
Pre-set internal thermostats automatically monitor the surface temperature to keep a dog or cat warm and comfortable. K&H outdoor pads are designed to warm to your pet's normal body temperature of 102°F when he/she lies on the pad. When your pet is not on the pad, the heat will dissipate into the air and the surface temperature will vary according to the ambient air temperature.
Plug in the Lectro-Soft and it will automatically warm on its own. There is no on/off switch to worry about and the pad will never exceed the natural body temperature of a dog or cat.
Washable Cover
Use the Lectro-Soft with or without the included fleece cover. Its washable, soft weave allows the pad's warmth to radiate through to your pet whereas a blanket or any other cover would trap the heat inside the pad, possibly causing a malfunction.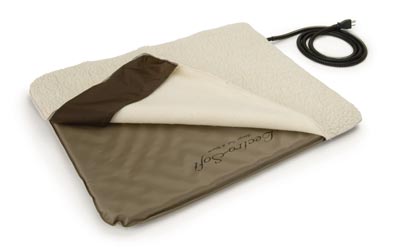 Safety-Tested
The K&H Lectro-Soft has been tested rigorously and certified by MET Labs. Their certification means this product adheres to strict electrical safety standards.
Lectro-Soft Combos
If you're looking to provide warmth for outdoor or feral cats, check out our Outdoor Kitty House and Outdoor Multi-Kitty A-Frame. These heated shelters combine the warmth of a Lectro-Soft Outdoor Heated Pet Bed with the protection of a waterproof cat house.
Patent #8,015,942
Key Specifications
Heated: Yes
Thermostatically Controlled: Yes
Pre-Set Temp: 102°F
Cord Length: 5.5 ft.
Outdoor Use: Yes
Water-Resistant: Yes
Material: Soft PVC
Cover: Fleece (Included)
Machine Wash: Cover Only
Safety Listing: MET
Small: 14" L x 18" W
Medium: 19" L x 24" W
Large: 25" L x 36" W
Small: 20 watts
Medium: 40 watts
Large: 60 watts
Important Safeguards:
Consult your veterinarian before use with young puppies/kittens, convalescent pets, during surgery/surgery recovery, or any animal that cannot voluntarily remove themselves from the heated pad. K&H recommends using ONLY the Deluxe Lectro-Kennel Heated Pad for these animals as this pad has an adjustable thermostat.
Do not place pad in confined area where the pet does not have the ability to remove themselves from the pad. Always allow your pet enough space to be able choose if they want to rest on the pad or off the pad.
Specifications
Additional Info
Item #

1070 – Small
1080 – Medium
1090 – Large




1071 – Small Cover
1081 – Medium Cover
1091 – Large Cover

Printable UPC
No
Unit UPC

1070 – Small – 655199010707
1080 – Medium – 655199010806
1090 – Large – 655199010905




1071 – Small Cover – 655199010714
1081 – Medium Cover – 655199010813
1091 – Large Cover – 655199010912

Case UPC

1070 – Small – 655199110704
1080 – Medium – 655199110803
1090 – Large – 655199110902




1071 – Small Cover – 655199110711
1081 – Medium Cover – 655199110810
1091 – Large Cover – 655199110919

Cord Length
5.5 ft.
Wattage

Small – 20 watts
Medium – 40 watts
Large – 60 watts

Safety Listing
MET
Dimensions

Small – 14" L x 18" W x 1.5" H
Medium – 19" L x 24" W x 1.5" H
Large – 25" L x 36" W x 1.5" H

Item Weight

Small – 2.2 lbs.
Medium – 3.0 lbs.
Large – 4.8 lbs.

Shipping Package
4 Color Box
Shipping Package Dimensions

Small – 14.5" x 8" x 3"
Medium – 19.25" x 9.5" x 3"
Large – 26" x 10.75" x 3.75"

Case Pack Qty
6
Case Pack Dimensions

Small – 19" x 15.25" x 9"
Medium – 20" x 19" x 10.5"
Large – 26" x 23" x 12"

Case Pack Weight

Small – 13 lbs.
Medium – 18 lbs.
Large – 29 lbs.

Warranty
1 Year
Care & Instructions
Product Q&A
Product-Specific Questions
---
General Questions about Outdoor Heated Beds