Overview
Details
The Extreme Weather Kitty Pad is an essential source of warmth for outdoor and feral cats. Its internal thermostats warm the surface to a cat's ideal temperature, even in extremely cold weather. An ABS plastic, water-resistant construction allows you to place it almost anywhere.
A sleek, smooth design now makes the Extreme Weather Kitty Pad more comfortable and durable than ever! We've also included a washable fleece cover for added softness.
Rugged Construction
This outdoor heated cat pad is built to last. A 5.5 foot steel-wrapped cord and tough ABS plastic build keep pets safe while also shielding the product. These rugged materials ensure that your Extreme Weather Kitty Pad will handle winter and difficult weather conditions.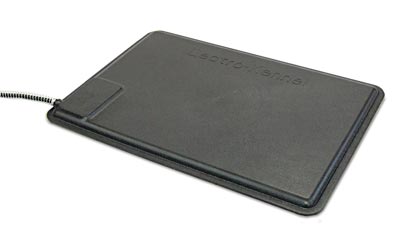 Versatile Placement Options
Place the K&H Extreme Weather Kitty Pad anywhere a flat, stable surface and shelter from direct precipitation are available. Its water-resistant build is perfect for cat houses, porches, garage floors, barns, or even the living room.
Automatic Temperature Control
Pre-set internal thermostats automatically monitor the surface temperature to keep your cat warm and comfortable. K&H outdoor pads are designed to warm to your pet's normal body temperature of 102°F when he/she lies on the pad. When your pet is not on the pad, the heat will dissipate into the air and the surface temperature will vary according to the ambient air temperature.
Simply plug in the Extreme Weather Kitty Pad and it will begin to warm. The pad will never exceed a cat's natural body temperature and there's no switch to turn on or off.
Washable Cover
Use the Extreme Weather Kitty Pad with or without the included fleece cover. Its washable, soft weave allows the pad's warmth to radiate through to your pet whereas a blanket or any other cover would trap the heat inside the pad, possibly causing a malfunction.
The Extreme Weather Kitty Pad Deluxe Cover is also available for purchase separately and is an excellent way to increase the comfort of the pad.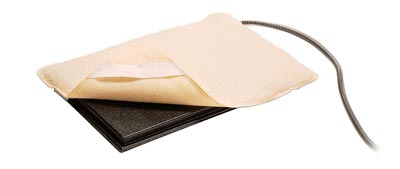 Safety-Tested
The K&H Extreme Weather Kitty Pad has been tested rigorously and certified by MET Labs. Their certification means this product adheres to strict electrical safety standards.
Extreme Weather Kitty Pad Petite
Have an itty bitty kitty? Check out the Extreme Weather Kitty Pad Petite, our all-new heated cat pad with a smaller footprint. It's perfect for diminuitive outdoor and feral kitties.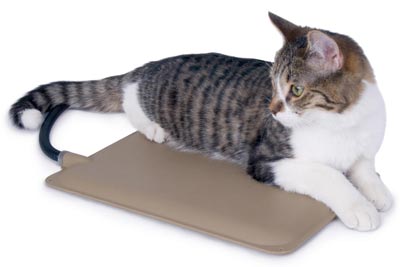 Key Specifications
Heated: Yes
Thermostatically Controlled: Yes
Pre-Set Temp: 102°F
Cord Length: 5.5 ft.
Outdoor Use: Yes
Water-Resistant: Yes
Material: ABS Plastic
Cover: Fleece (Included)
Machine Wash: Cover Only
Safety Listing: MET
Dimensions: 12.5" L x 18.5" W
Wattage: 40 Watts
Important Safeguards:
Consult your veterinarian before use with young puppies/kittens, convalescent pets, during surgery/surgery recovery, or any animal that cannot voluntarily remove themselves from the heated pad. K&H recommends using ONLY the Deluxe Lectro-Kennel Heated Pad for these animals as this pad has an adjustable thermostat.
Do not place pad in confined area where the pet does not have the ability to remove themselves from the pad. Always allow your pet enough space to be able choose if they want to rest on the pad or off the pad.
Specifications
Additional Info
Item #

3093 – Extreme Weather Kitty Pad
1135 – Extreme Weather Kitty Pad Deluxe Cover

Printable UPC
No
Unit UPC

3093 – Extreme Weather Kitty Pad – 655199030934
1135 – Extreme Weather Kitty Pad Deluxe Cover – 655199011353

Case UPC

3093 – Extreme Weather Kitty Pad – 655199130931
1135 – Extreme Weather Kitty Pad Deluxe Cover – 655199111350

Cord Length
5.5 ft.
Wattage
40 watts
Safety Listing
MET
Dimensions
12.5" L x 18.5" W x 0.5" H
Item Weight

Extreme Weather Kitty Pad – 3.5 lbs
Extreme Weather Kitty Pad Deluxe Cover – 0.3 lbs

Shipping Package

Extreme Weather Kitty Pad – 4 Color Box
Extreme Weather Kitty Pad Deluxe Cover – Poly Bag

Shipping Package Dimensions

Extreme Weather Kitty Pad – 19" x 15.5" x 1.25"
Extreme Weather Kitty Pad Deluxe Cover – 10.5" x 15.25" x 2"

Case Pack Qty
6
Case Pack Dimensions

Extreme Weather Kitty Pad – 19" x 16.5" x 8.5"
Extreme Weather Kitty Pad Deluxe Cover – 14" x 14" x 5"

Case Pack Weight

Extreme Weather Kitty Pad – 21 lbs.
Extreme Weather Kitty Pad Deluxe Cover – 2 lbs.

Warranty
1 Year
Care & Instructions
Product Q&A
Product-Specific Questions
---
General Questions about Outdoor Heated Beds