Overview
Details
For absolute temperature control, our Deluxe Lectro-Kennel is the perfect choice. Whether for whelping of puppies, post surgery veterinary care, or those wanting added temperature control, the Deluxe Lectro-Kennel is the professional's choice. A unique built-in sensor and thermostat allow the pad's temperature to be easily adjusted. The easy to read digital readout and simple push button design make this product the only one of its kind. It comes with a free washable cover, is MET listed and has a one year warranty.
Digital Temperature Control
The K&H Deluxe Lectro-Kennel gives you total control with a digital thermostat that adjusts between 80°F and 100°F. Its large display allows you to read the temperature at a glance with either Fahrenheit or Celsius temperature scales.
To adjust the digital thermostat, follow these simple directions:
Toggle between Fahrenheit and Celsius – Hold both arrow buttons simultaneously for 3 seconds
Raise temperature – Hold up arrow button for 3 seconds, adjust the temperature up after the readout begins to blink
Lower temperature – Hold down arrow button for 3 seconds, adjust the temperature down after the readout begins to blink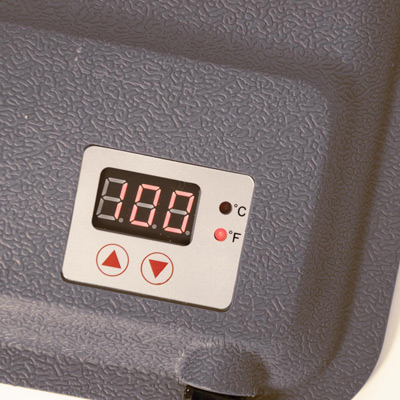 Adjust the temperature to your desired setting and the Deluxe Lectro-Kennel will take care of the rest. Internal sensors thermostatically control the heat to ensure that the pad maintains the selected temperature. When your pet is not on the pad, the heat will dissipate into the air and the surface temperature will vary according to the ambient air temperature.
Rugged Construction
We build this durable heated pad with tough ABS plastic and a 5.5 foot steel-wrapped cord, shielding the product from a dog's chewing while also keeping pets safe.
For added protection, drill holes through the outer lip of the Deluxe Lectro-Kennel and screw it down to the floor or onto the wall. This will deter pets from picking up the pad like a chew toy.
Versatile Placement Options
Whether outdoors or indoors, use the K&H Deluxe Lectro-Kennel anywhere a flat, stable surface is available. Its water-resistant build is perfect for dog houses, porches, garage floors, barns, or even the living room. No matter where you set the Deluxe Lectro-Kennel, it's sure to be your dog's favorite resting place.
Washable Cover
Use the Deluxe Lectro-Kennel with or without the included fleece cover. Its washable, soft weave allows the pad's warmth to radiate through to your pet whereas a blanket or any other cover would trap the heat inside the pad, possibly causing a malfunction.
A Deluxe Lectro‐Cover is also available for purchase separately and is an excellent way to increase the comfort of the Deluxe Lectro-Kennel.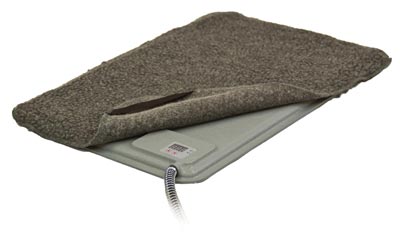 Safety-Tested
The K&H Deluxe Lectro-Kennel has been tested rigorously and certified by MET Labs. Their certification means this product adheres to strict electrical safety standards.
Key Specifications
Heated: Yes
Thermostatically Controlled: Yes
Adjustable Temp: 80-100°F
Cord Length: 5.5 ft.
Outdoor Use: Yes
Water-Resistant: Yes
Material: ABS Plastic
Cover: Fleece (Included)
Machine Wash: Cover Only
Safety Listing: MET
Small: 12.5" L x 18.5" W
Medium: 16.5" L x 22.5" W
Large: 22.5" L x 28.5" W
Small: 40 watts
Medium: 60 watts
Large: 80 watts
Specifications
Additional Info
Item #

1009 – Small
1019 – Medium
1029 – Large




1105 – Lectro-Cover Deluxe Small
1205 – Lectro-Cover Deluxe Medium
1305 – Lectro-Cover Deluxe Large

Printable UPC
No
Unit UPC

1009 – Small – 655199010097
1019 – Medium – 655199010196
1029 – Large – 655199010295




1105 – Lectro-Cover Deluxe Small – 655199011056
1205 – Lectro-Cover Deluxe Medium – 655199012053
1305 – Lectro-Cover Deluxe Large – 655199013050

Case UPC

1009 – Small – 655199110094
1019 – Medium – 655199110193
1029 – Large – 655199110292




1105 – Lectro-Cover Deluxe Small – 655199111053
1205 – Lectro-Cover Deluxe Medium – 655199112050
1305 – Lectro-Cover Deluxe Large – 655199113057



Cord Length
5.5 ft.
Wattage

Small – 40 watts
Medium – 60 watts
Large – 80 watts

Safety Listing
MET
Dimensions

Small – 12.5" L x 18.5" W x 0.5" H
Medium – 16.5" L x 22.5" W x 0.5" H
Large – 22.5" L x 28.5" W x 0.5" H




Lectro-Cover Deluxe Small – 12.5" L x 18.5" W x 0.25" H
Lectro-Cover Deluxe Medium – 16.5" L x 22.5" W x 0.25" H
Lectro-Cover Deluxe Large – 22.5" L x 28.5" W x 0.25" H

Item Weight

Small – 3.5 lbs.
Medium – 4.3 lbs.
Large – 7.5 lbs.




Lectro-Cover Deluxe Small – 0.3 lbs.
Lectro-Cover Deluxe Medium – 0.5 lbs.
Lectro-Cover Deluxe Large – 0.7 lbs.

Shipping Package

Deluxe Lectro-Kennel – 4 Color Box
Lectro-Cover Deluxe – Poly Bag

Shipping Package Dimensions

Small – 19" x 15.5" x 1.25"
Medium – 26" x 17" x 1.25"
Large – 31.5" x 23" x 1.25"




Lectro-Cover Deluxe Small – 12 x 5" x 1"
Lectro-Cover Deluxe Medium – 12 x 5" x 2"
Lectro-Cover Deluxe Large – 12 x 5" x 3"

Case Pack Qty
6
Case Pack Dimensions

Small – 19" x 16.5" x 8.5"
Medium – 26.5" x 18" x 8.5"
Large – 32" x 24" x 8.5"




Lectro-Cover Deluxe Small – 14" x 14" x 5"
Lectro-Cover Deluxe Medium – 14" x 14" x 5"
Lectro-Cover Deluxe Large – 14" x 14" x 5"

Case Pack Weight

Small – 21 lbs.
Medium – 26 lbs.
Large – 45 lbs.




Lectro-Cover Deluxe Small – 2 lbs.
Lectro-Cover Deluxe Medium – 3 lbs.
Lectro-Cover Deluxe Large – 4 lbs.

Warranty
1 Year
Care & Instructions
Product Q&A
Product-Specific Questions
---
General Questions about Outdoor Heated Beds